5G-VINNI results presented at 5G Techritory 2021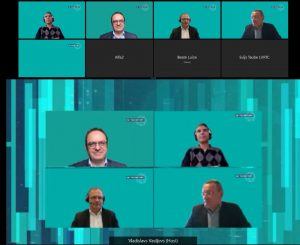 On the first day of 5G Techritory Forum 2021 (22-25 November 2021), Anastasius Gavras from Eurescom presented in the morning experiences and lessons from implementing 5G-VINNI's 5G experimentation infrastructure for verticals services. His presentation was part of a session on the key findings of 5G PPP infrastructure projects. The other panelists were Alexandros Kaloxylos, Executive Director of the 5G Infrastructure Association; Mauro Renato Boldi, Project Manager at Telecom Italia and coordinator of the 5G EVE project; and Harilaos Koumaras, Research Assistant Professor at NCSR Demokritos and coordinator of the 5GENESIS project.
In the afternoon of the 22nd, Anastasius Gavras was a panelist in the session on "The Bleeding Edge of AI". He presented the 5G PPP AI/ML White Paper, which contains contributions by the 5G PPP projects ARIADNE, 5G-VINNI, and IORL. The other panelists were Johannes Castner, Founder of CollectiWise Inc, Anima Anandkumar, ML Research Director at NVIDIA, Konstantinos Botsaris, Senior Manager Digital Innovation at KPMG, and Nathan Cruz Coulson, Senior Technologist for Responsible and Ethical AI at Digital Catapult.
5G Techritory 2021 has been held as a 'phygital event' and claims to be Europe's leading 5G ecosystem forum. The 5G Techritory platform is an initiative to bring together the key players in 5G development with the goal of developing a robust and aligned 5G Ecosystem in Europe and beyond.
Further information